Party for the Arts
Party for the Arts is the annual fundraiser at Great River Arts where we celebrate our members & welcome new ones. Join us for a themed night out as we revel in the success of our previous year and toast the prosperity of the coming one! All of the proceeds from the nights ticket sales, activities and bar support programming at GRA throughout the year.
Save the date
Legends & Lights
OCTOBER 24: 7-10 PM
$15 VIP Ticket
Great River Arts is rolling out the red carpet for "Legends & Lights" Party for the Arts 2015, on Saturday, October 24, from 7 p.m. - 10 p.m. This annual party raises money to help support all of the fine programming at Great River Arts, such as youth & adult arts education, theater, concerts and visual arts exhibitions. This event is a night of celebration to honor, recognize and appreciate our current members, business sponsors and supporters. It truly is a party for the arts! Tickets are $15 and they can be purchased at GRA, online or at the door. There will be light refreshments and a cash beer & wine bar throughout the evening.

The theme for this zany, over the top party is Hollywood Glamour, so come dressed as your favorite celebrity or rockstar or just channel your inner celebrity and be your glamorous self. Great River Arts will be transformed into a nightclub with special VIP seating. At center stage will be a Lip-Sync Battle performance with celebrity appearances from a few select community members who will be dressed to impress. As the evening rolls along, the paparazzi will be on the look out for the best Male & Female Celebrity Costumes. Guests will be able to pay $3 per song to get on stage to show off their lip sync chops. A meager $5 will allow you to send someone else up onto stage and $10 will get you out of performing, if you're just not up to it. Awards & swag bags will be given at the end of the night to the top performers. "You don't have to know what you are doing," says Sam Bruno GRA Program Support Specialist with a wink, "you just have to look like you know what you are doing."

The Great River Arts staff has spent the last few weeks working with the event committee to put together the most outrageous party Little Falls has ever seen. "We are so excited to give back to the community and really have a good time," said Bruno, "our success is dependant upon the support of our community, so throwing a party is the least we can do to say thank you."
Do YOU have what it takes to be a STAR? Great River Arts is looking for interested Lip Sync Battle contestants. Email: info@greatart.org


CHECK OUR PICTURES FROM THE WILD WEST PARTY FOR THE ARTS...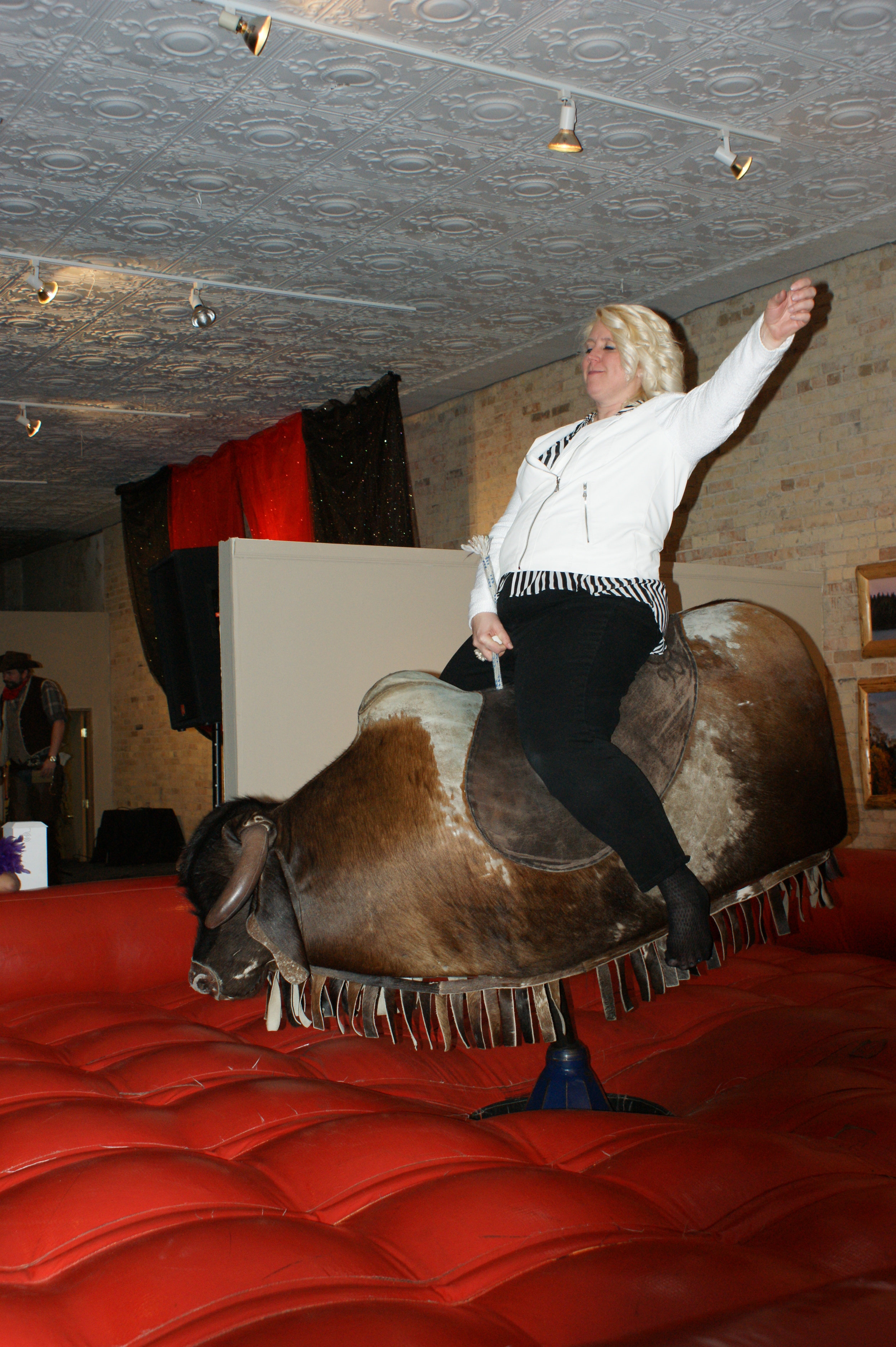 Everyone had a great time on "Oscar" the Mechanical Bull sponsored by Little Falls Orthopedic Clinic, playing Laser Tag, watching the can can show and enjoying wonderful appetizers from A.T. the Black & White. Thank you to everyone who ponied up for the arts!